I was staring at the photos of our "new home" this weekend. I am so inlove with it that I created a new account on my SIMS 3 game using the house model.
With the SIMS 3, the hubby was able to get a visual on how the place will look like and it is very wonderful to see the big difference after the curtains are hanged. It gave the place the coziness that we want.
(the SIMS 3 model of the house was a perfect duplicate except for the roof on the front porch. I can not find the same model that have an arch on the entryway. I used same color, same shelves, and floor plan)
The floorplan is great, the materials are not substandard however there is an issue on the kitchen.
The kitchen sink and counters are located at the far right corner of the room, near the door. The adjacent room is the masters bedroom. Since the counters were installed near the door in L-shape, the only space for the refrigerator and oven is the wall (adjacent room is masters bedroom). We were thinking about renovating the area, demolished the counter near the door and install there the oven but assuming that we have to pay for the down payment, there will be no budget on that for the mean time. Sigh. That's my dilemma.
To come up with other ideas i went surfing! Mostly on Young House Love and Apartment Therapy. I realized that the house is 66 sq.m. only but it is big enough for us since we are not planning to have lots of kids. the three bedrooms are big enough for us because privacy and immediate moving is our number one concern. We hope to start paying for the mortgage because we want to finish it early on (we did our math).
Inspirations From Young House Love:
perfect for halfbath






I have seen this pantry at Katie's blog and have been obsessing about this for a long time. It appeared again on one of Young House's House crashing :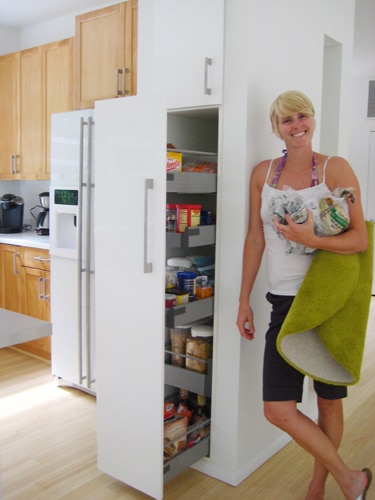 another half bath:
and the lawn, i think we can have one like this:
I also found some great ideas from Apartment Therapy and BHG wasn't able to bookmark them. So here is all I have for now. Have a happy Monday.